Check out pictures from Cholla's 16th Birthday party!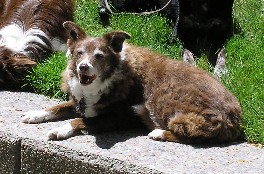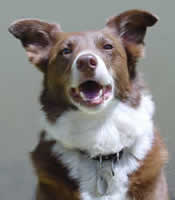 Cholla - Retired, deceased.
Classification: Human Remains Detection Specialist
Date of Birth: July 9, 1993
Date of Death: September 26, 2009
Breed: Border Collie
Handlers: Joseph Kral, Adela Morris
Canine Accomplishments:
Cholla has several finds to her name and has been on 200+ searches. She is best known for her never ending wanting to play ball and her love of people. Cholla was first certified with Adela Morris and then certified with Joseph Kral who is now her handler.
Certifications:
1995 - Mission Ready Cadaver certified with Ca Office of Emergency Services (OES), re-certified every year
1995 - Water cadaver certified CSST, re-certified every year
1997 - Advanced Human Remains detection, Institute for Canine Forensics
1998 - HRD in a Disaster Environment, Institute for Canine Forensics
Notable Searches:
2001 - Xiana Fairchild, numerous searches. Curtis Anderson was convicted and will serve life in prison for the kidnapping of another child
2000 - Location of Ohlone Indian graves 3000 years old, Fremont CA
2000 - San Benito County Sheriff. Airplane crash near San Juan Bautista
1999 - Bonilla Landfill Search – San Jose, CA (the body was located deceased subject, result: conviction of murderer, third strike)
1999 - Found remains in Monterey Co. from an unknown person
1998 - Santa Cruz identifying location of crime scene, Walt Stephens convicted of murder
1998 - Christina Williams searches
1998 - Washoe Co Sheriff NV Sierra Chemical Co. Located victims of an explosion, recovered remains so DNA could be performed
1996 - Santa Barbara CA, found the remains of Jennifer Vernals
1996 - Lonna Angele, Humboldt Co. CA, Located primary crime scene, blood evidence and bones. Larry Angele was convicted of the murder of his wife